So you've put together a survival kit, you probably have a knife, a fire kit, a first aid kit, and other necessities you may need to survive. Have you thought about packing a rifle? I'm sure some of you have. Fact is, a small, lightweight rifle could be just what you need in a wilderness survival situation. Whether it's for hunting game for food or personal protection, a good survival rifle can save time, effort, and maybe your life. What makes a rifle a "Survival Rifle"? The main features that make a great survival rifle are: small size, lightweight, reliability, and portability. No one wants to lug around a heavy, bulky monstrosity that gets in the way and won't fit in their pack. Most are .22 caliber, you can carry a lot of .22lr ammo, it's cheap and easy to acquire, though there are some of larger caliber. I've compiled information on several survival rifles, from excellent sources, so you can see all the different options and choose the one that's right for you.
Henry U.S. Survival AR-7
Video by:
http://shilohtv.com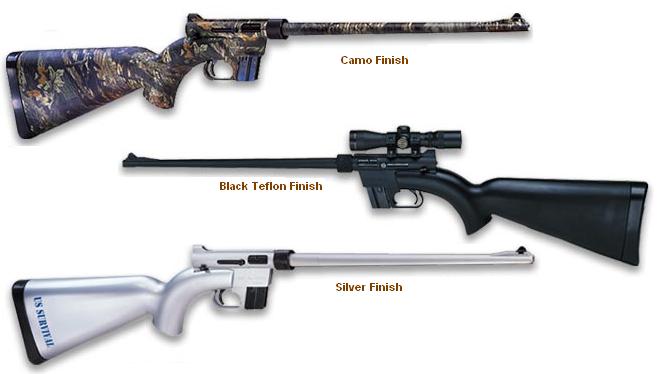 From:
http://www.henryrepeating.com/rifle-survival-ar7.cfm
"Since 1959, the venerable AR-7 has been the choice of U.S. Air Force pilots who need a small-caliber rifle they can count on for survival should they have to punch out over a remote area. Over the years, the AR-7's reputation for portability, ease of operation and reliability has carried over to the civilian world as well. Today, it's a favorite of bush pilots, backpackers and backcountry adventurers who, like their Air Force counterparts, need a rifle that's easy to carry but has the accuracy to reliably take down small game."
"Like the original Henry US Survival Rifle, our latest take on this innovative, semi-automatic rifle is lightweight (just 2.5 lbs) and highly portable. At just 16 ½" long (when all the components are stowed), it fits easily into the cargo area of a plane or boat or in a backpack. And because it's chambered in .22LR you can carry a large quantity of ammunition, without adding much weight to your gear."
"When disassembled, the pieces fit inside the impact-resistant, waterproof stock, which will float should it take a trip overboard. Assembly is as easy as attaching the receiver to the stock, inserting the barrel and screwing on the barrel nut. In just a few seconds, without the need for any tools, the Henry U.S. Survival AR-7 is ready for action."
"The Henry U.S. Survival AR-7 comes standard with a sturdy steel barrel covered in tough ABS plastic and then coated with Teflon for complete protection against corrosion. Plus, it's engineered for perfect balance and the ability to maintain its tack-driving accuracy, even after thousands of rounds."
"Like the barrel, the receiver is also coated with a layer of waterproof Teflon for superior weatherproofing, waterproof protection, even in harsh salt water environments. Plus, the updated receiver is grooved making it easy to top it off with your favorite optics."
All models are equipped with an adjustable rear sight and a blade front sight.
Action Type : Semi-automatic
Caliber: .22 LR
Capacity : 8 round magazine (comes with 2)
Length : 35" assembled, 16.5" when stowed
Weight: 3.5 lbs.
Stock : ABS Plastic
Sights: Adjustable rear, blade front
Finish : Teflon coated receiver and coated steel barrel
M.S.R.P.: $275.00
Springfield Armory M6 Survival Rifle
The M6 survival rifle is no longer in production, but they do surface on the used market every now and then. Manufactured for Springfield by CZ in the Czech Republic, and Ithica at one time, the M6 is an over / under breakdown design featuring 22LR or Hornet and .410 shotgun barrels.
The cheek piece lifts to reveal storage for 12 .22 rounds and four .410 shells. The unconventional trigger is designed for ease of use with a gloved or possibly injured hand, however the civilian version trigger guard prevents the rifle from folding fully.
The M6 is easily taken down into 2 pieces for compact carry and storage.
Air Force pilots generally just carry a side arm nowadays, with the advent of GPS and location devices such as EPIRBs, ELT's, and PLB's a survival rifle has become somewhat obsolete from a military perspective. That said, the M6 is still prized by those who own it, many of whom swear by it.
The original $200 sticker price is likely not what you will pay if you find one, usually $300-$400 is more like what you can expect to fork over... if you can find one.
~ Can be broken down easily.
~ Durable construction.
~ Ultra Light - 2.5 lbs.
~ integrated .410 ga. shotgun
~ On board shell carrying.
~ Good Accuracy.
Caliber: .22LR / .410
Operation: Single Shot break
Stock: SS or parkerized
Capacity:1&1
Finish: SS or parkerized
MSRP: N/A (used $300-400)
Visit:
www.survival-gear-guide.com
Marlin Model 70PSS Papoose
The Marlin Model 70PSS is designed to be an easily carried, quick take-down .22 rifle. These features along with the stainless steel and polycarbonate construction made it a fine choice for a survival rifle. The barrel is quickly attached and removed with either the included spanner wrench or a coin. The 7-round magazine is nicely finished in nickel plating. The Papoose comes with a floatable padded nylon cordura bag. The receiver cover is grooved for a scope mount, which could also fit inside the padded case (along with ammo) if you choose to use it to carry the gun. carrying strap studs are included on fore-end and butt-stock of the rifle. Safety is a standard crossbolt and sights are adjustable open rear, and ramp front orange post with a wide view hood.
A manual bolt hold-open lever is located on the right side, forward of the trigger guard, the hold-open also functions automatically when the last round is ejected. Marlin recommends using CCI Mini-Mag, Federal / Remington / or Winchester super X, high velocity. Although the rifle comes with the carry case, Marlin does not recommend storing the papoose in the case for extended periods in case moisture condenses on the inside and causes rust. Not only a nice survival rifle, but a nice little plinker to boot.
~ Can be broken down easily.
~ Durable construction.
~ light weight - 3.25 lbs
~ floatable carrying case
~ Can double as a hunting rifle / plinker.
~ Good Accuracy.
Caliber: .22LR
Operation: Semi-Auto
Stock: Polycarbonate
Capacity: 7+1
Finish: SS
MSRP: $284
Visit:
www.survival-gear-guide.com
Ruger 10-22 Carbine
The Ruger 10-22 carbine version with its 16 1/8" inch barrel is 3 inches shorter than the standard Ruger 10/22 with a 18" barrel. The 10/22 is not not manufactured as a "Survival Rifle", but its legendary reliability, and huge assortment of after market accessories, make it impossible to ignore for the role.
A folding stock can be added to take an additional 12 inches or so off the total length, but make sure to always check local, state, and federal laws before shortening any firearm to make sure you are in compliance. The CRR is a short rifle and could potentially put you under required overall length, the standard 10/22 will generally not be an issue with a folding stock. Choate industries, and butler creek both make good quality folding stocks for the 10/22. Aftermarket 20 and 30 round clips can be purchased, but Rugers' unique rotary 10 round clip ensures a round is reliably fed every time, and should be more than sufficient for any survival situation... Still, some of us just like having 30 rounds at our semi-automatic disposal. If you are that guy, this is your gun. A 50 round box of .22LR ammo in your backpack, vehicle, or saddlebags wont add much weight, or take much space.
~ Availability of custom parts.
~ Bet your life reliability.
~ Reasonable initial cost.
~ 10 round capacity
~ Can double as a hunting rifle / plinker.
~ Superior Accuracy.
Caliber: .22LR only
Operation: Semi Auto
Stock: Wood
Capacity: 10+1
Finish: Blued
MSRP: $284
Visit:
www.survival-gear-guide.com
Taurus Model 62 Rifle
The Taurus model 62 is a resurrection of the old Winchester pump of the same model. These are truly beautiful little guns, and Taurus hand-fits each butt-stock and receiver for a nice "handcrafted" fit. But don't let that deter you from taking it out and shooting it, the model 62 is plenty rugged, and is one of the more accurate selections one could make with a .22 survival rifle.
The Taurus model 62 carbine version is an excellent all around .22 rifle, but it has some features that distinguish it as a good choice for a survival rifle also:
~ Can be taken down into 2 pieces by loosening just one knurl screw.
~ Stainless construction for all weather performance.
~ Short overall length - 32 1/2 inches
~ Light weight - 4 1/2 lbs.
~ 12 round magazine capacity. tube.
~ Superior accuracy
Caliber: .22LR
Operation: Pump
Stock: Wood
Capacity: 12rds.
Finish: Blue / SS
MSRP: $319
Visit:
www.survival-gear-guide.com
www.taurususa.com
Kel Tec SU-22 and SU-16
Video by: nutnfancy
From:
www.keltecweapons.com
"The SU-22 rifle is chambered for the popular and economical .22 Long Rifle cartridge (.22LR). It is based on the 5.56mm NATO chambered SU-16 rifle and shares many parts including the grip and front and rear sights. The SU-22 is not a simple conversion kit, it is a standalone firearm chambered for the .22LR and is designed for target shooting, plinking, or small game hunting. The SU-22 operates by blowback action and have a 4140 steel bolt that rides on steel guide rails inside the polymer receiver. The ejector is attached to one of the guide rails and the recoil spring is located above the barrel. The cross-bolt safety and magazine release operate identically to the SU-16. The stock and trigger mechanism can be folded forward for added safety and to facilitate secure storage or carry under extreme conditions."
"The SU-22 will accept many of the same accessories as the SU-16 including the slings, stocks, and compact fore-end. The rear sight is adjustable for windage and the front sight is adjustable for elevation. An integrated picatinny rail on top will accept a multitude of sighting options. The muzzle end of the barrel is threaded ½"-28 to accept standard attachments such as a muzzle brake. A 26 round semi-transparent magazine is included and it will accept magazines designed for the Atchison M-16, .22lr conversion."
SU-22
Caliber: .22LR
Weight unloaded: 4.0 lbs
Length Open: 34"
Barrel length: 16.1"
Twist: 1:16"
Magazine Capacity: 26 rounds or Atchison M-16 mag.
MSRP $ 440.00
SU-16
Videos by: nutnfancy
The SU-16 is a gas operated, semi-loading rifle chambered in 5.56 mm NATO caliber. It is intended to be the perfect every-man's sport and utility rifle. The rifling is 1 turn in 9 inches, right hand twist. Several unique features make the SU-16 a versatile sporting firearm, including:
* Chrome lined bore and chamber now standard
* An integrated Picatinny rail for mounting different sight systems.
* The fore-end folds down to form a bi-pod for increased accuracy.
* The stock can store spare magazines. Two 10 round magazines or one 20/30 round magazine will fit.
* The stock and trigger mechanism can be folded forward for added safety and to facilitate secure storage or carry under extreme conditions.
Caliber: 5.56 NATO
Weight unloaded: 5.0lbs.
Length Open: 37.4"
Length Closed: 26.4"
Barrel length: 18.5"
Magazine Capacity: 10 rounds
Twist: 1:9"
Trigger Pull: 5lbs to 7lbs
MSRP: $ 665.00
H&R Survivor
From:
www.hr1871.com
"When the going gets rough, rely on this rock-solid, go-anywhere, do everything design. Take your pick of shotgun, heavy-barreled rifle or 410 Bore/45 Colt configurations to meet any challenge. The high-density polymer stock has a thumbhole/pistol-grip design and a convenient storage compartment. The heavy bull-barrel versions in 223 Rem. and 308 Win. are offered in low-profile matte blue. Our Transfer Bar System provides an added measure of safety. Standard shotguns have a modified choke."
Survivor 308 Win. & 223 Rem models
Stock High-density polymer, black matte finish, thumbhole design, butt stock storage compartment, sling swivel studs and sling.
Barrel 22" Bull Barrel
Sights Scope mount rail and hammer extension; no iron sights.
Length 36"
Weight 6-1/2 lbs.
MSRP: $326
H&R Survivor .410/45 Colt model
Stock: High-density polymer, black matte finish, thumbhole design, butt stock storage compartment, sling swivel studs and sling.
Chamber : .45Colt and up to 3", .410ga shells
Sights: Bead front
Choke: Screw-in
Barrel: 20"
Length: 34-1/2"
Weight 7 lbs.
MSRP: $234
Savage 30G Stevens Favorite Take-down
by: Jim Gardner, Guns Magazine
www.gunsmagazine.com
"Unlike the original 30G, the 21" barrel of the new take-down model is full rather than half-octagonal. The added weight out front is perhaps only a couple ounces, but it does feel a bit steadier shooting offhand. The take-down screw is of the 1894 pattern, with a nice wire bail to give a little additional leverage.
Dismounting couldn't be simpler. Open and unload the action, turn out the take-down screw about a turn and a half, and then slide the barrel from the receiver. When reinstalling, be sure to rock the barrel slightly and feel the take-down screw into its seat before tightening.
Sights on the new rifle are identical to the earlier version--a nice, flat-faced steel bead front and a step adjustable "U" notch rear. "
Action: Single Shot, Rolling Block
Caliber: 22lr
Sights: Open sights
Magazine: Single-shot
Stock material: Wood
Barrel material: Carbon Steel
Barrel finish: Blued
Rate of Twist: 1 in 16"
Barrel: 21"
Overall Length: 36.75"
Weight: 4.25 lbs
MSRP:$385.00
www.savagearms.com
I certainly learned a thing or two while putting all this together, I hope you have too.
There's some really neat survival rifle concepts out there! Of course with all the highly customizable rifles and add-on's available, you could put your own together, just be sure to check on your area's gun laws first.
Conclusion: While you may not need a survival rifle to survive, like any tool, if a situation arises where you need it, you'll wish you had it. Stay safe out there.
0