In the last installment we discussed concealed carry pistols, in this installment of concealed carry options, we're going to take a look at some concealed carry holsters. Usually available in leather ,nylon, or composite. If you're going to conceal carry correctly you're going to need one. It's all a matter of finding the one that fits your gun and that you're comfortable with wearing and using. Hopefully this article will help you make the right choice.
Here's some concealed carry terms and their meanings:
Imprinting: Imprinting is a visible outline of the gun under concealment, you don't want this, it defeats the whole purpose of concealed carry.
Cant: The cant of a holster is the angle at which the gun is carried and drawn.
Retention: Retention refers to the capacity of a holster to secure your gun and keep it from slipping out or moving around.
Carry Position: Carry positions for belt holsters are usually expressed in the following form. Imagine the face of a clock. Go around your body clockwise. 12:00 is your stomach, 3:00 would be your right hip, 6:00 your back, 9:00 your left hip.
As in the last installment I must stress: Ignorance of the law is no excuse, no matter how wrong those laws might seem, they're still laws, breaking those laws reflects badly on all responsible gun owners. So be sure to check local ordinances and state concealed carry laws. Most states require a license for concealed carry while some forbid it entirely. Some cities and towns have local laws against the carry of a firearm into or near certain properties. When traveling with a concealed firearm it is also important to check if the state or area you are traveling to recognizes your CCW license, this is called "Reciprocity". Here are some excellent websites that contain everything you need to know about concealed carry licensing, laws, products, and reciprocity:
www.carryconcealed.net
www.usconcealedcarry.com
www.usacarry.com
www.handgunlaw.us
www.nraila.org/gunlaws/
Video by: SightsonTargetKris
Outside Waistband Holsters (OWB)

An outside waistband holster (OWB) is worn on the outside of your belt. Although they are comfortable to carry with, provide an easy draw, and offer good handgun retention not very many people use these type of holsters for concealed carry. Some feature an adjustable cant. OWB's are more difficult to conceal, unless you plan on wearing a long shirt or jacket to cover it up, that might be fine for Winter carry, but can get down right uncomfortable in hotter weather. OWB holsters are usually used for open carry.
Inside Waistband Holsters (IWB)
An inside waistband holster (IWB) is probably the most popular method for concealed carry. An IWB holster keeps the gun inside your belt line so the gun will stick out no farther than your belt, though the grips may stick out a bit. They are very concealable but you still need to be careful that the gun it is not imprinting, especially during movement. Most IWB's allow the wearer a range of carry positions, and some allow you to adjust the cant. Most of the time you will have to wear larger sized pants to accommodate an IWB, usually about +2" waist.
Shoulder Holsters
A shoulder holster is another method for concealed carry. Most shoulder holsters are extremely comfortable and distribute the weight of the gun across your shoulders. Shoulder holsters are usually adjustable for a customized fit and provide an extremely quick and smooth draw if they are adjusted correctly. You'll need to wear at least a long jacket or shirt to make use of one of these. If your jacket is zipped then draw time will be hindered. Once again you'll need to be aware of obvious imprinting. Most feature a double magazine pouch opposite the holster.
Belly Band
A belly band is a band that fits tightly around your midsection or waist and has a place for carrying a gun, some are supported by a single shoulder strap ,have velcro adjustment straps, and storage for extra magazines. They are best used with loose fitting clothing to avoid imprinting. This probably isn't going to be the most comfortable of carry methods, and it will obviously require a bit of adjustment. Still this is a good method for deep concealment.
Ankle Holsters
Ankle holsters are great if you are carrying a small, light gun. Ankle holsters are also great if you are wearing dress clothes and other carry methods would be too visible. They provide very high concealment for smaller guns and are rather comfortable if fitted right. Of course drawing from an ankle holster is going to be rather slow.
Pouch Holsters
A pouch holster is basically a reworked fanny pack or belt case. The pouch has room for the gun and sometimes a slot for an extra magazine. It will allow you to carry the gun highly concealed similar to the IWB holster but without the need for a higher pant size. These type of holsters could also be worn OWB. They are really comfortable and provide the utmost in concealment. Obviously drawing out of this type of holster is going to be slower and imprinting may be an issue, plus the concealed gun may move and shift inside the pouch.
Smart Carry makes some great pouch holsters.
http://www.smartcarry.com
Concealment Purses
Because ladies conceal carry too. These purses come in many styles and feature a side pocket for excellent concealment without actually having to wear a holster. The fact that it is a functional purse makes it ideal for concealing because you don't have to worry much about imprinting. The one problem I can see with this method of concealment is, if someone snatches the purse they have your gun. Some may not contain retention for your gun, so like the pouches, the gun may move or shift.
Pocket Holsters
Pocket holsters are a common method of concealed carry. To safely pocket carry a handgun, you'll need a good pocket holster. Pocket holsters fit to the inside of a pocket and will protect the trigger guard, help prevent the gun from getting hung up on the draw, and prevent imprinting. Of course, a small and light gun will be required and it helps to wear a long shirt or light jacket. They are very comfortable, quick and easy to fit, but you'll need to be careful while drawing out of one if your pistol has an exposed hammer or large profile sights, it may become snagged on your pocket.
Concealment Clothing
These probably aren't for everybody, but they offer great concealment for those that can wear them, especially when a loose shirt or jacket is worn over them. Imprinting may still be something to watch for though.
Concealment Vests and Jackets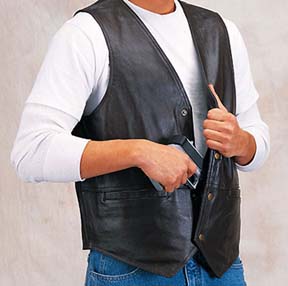 These are vests and jackets with concealment pockets or holsters sewn inside of them, some also offer space for extra magazines . They offer decent concealment and come in different styles, but the wearer must be wary of imprinting, or of the garment coming open and revealing their gun.
Here are some links to CC holster info and holster manufacturers:
http://concealedcarryholsters.org/
http://www.desantisholster.com
http://www.crossbreedholsters.com/
http://deepconceal.com/
http://www.uncle-mikes.com/um_cat_holsters.html
http://www.usgalco.com/default.asp
http://www.donhume.com/
http://www.bianchi-intl.com/
http://www.blackhawk.com/catalog/holsters,16.htm
http://www.fobusholster.com/index.htm
http://www.safariland.com/
http://www.undertechundercover.com/
http://bellybandccw.com/
0