Videos by: BushcraftOnFire
---
In previous articles I've covered how to survive in the wilderness and other general survival skills. In this article I'll cover "Bugging In". In some situations it may be better to just hunker down where you are and wait it out instead of running to the hills. If you are not in immediate danger, why would you leave a perfectly good shelter like your house or apartment? If you're prepared and stocked up on the basic necessities you don't need to go anywhere. So let's take a look at what you'll need to be prepared in a Bug-In situation.
1. Water.
In a disaster situation you may not have running water or it may not be safe to drink. In the short term you can have cases of bottled water stored, but what happens when that runs out and you can't go out to get more? If you've been prewarned of an impending disaster you could fill up your bathtub and sinks. In extreme cases you can use the water that is already in the pipes of your house, and water that has collected in your water heater. You can also gather rain. As an alternative you can store water before hand.
Having at least a months supply would be a good start, remember to account for the number of people in your household when considering the amount of your water supply. For more information see my article: Water: The Most Important Element Of Survival>>>
https://members.gunnook.com/content....nt-Of-Survival
---
2. Food.
Having a ready supply of food is a must, it's good to have at least enough to feed everyone in the house for six month's. You could go with MRE's (Meals Ready To Eat), these are military style rations. One MRE will supply you with all the nutrition you'll need for one day, but they are prohibitively expensive. Warehouse stores like Sam's Club and Costco are great places to buy in bulk. Having non-hybrid seeds to plant in a back yard garden ,window boxes, or even inside, is a great way to provide sustainable food.
Learning to preserve and can your own food is an invaluable skill to have.
Six months sounds like a lot of stored food, but with the right choices it's not that hard at all. First let's see what kind of food supplies to consider.
Dry goods are always a good choice, if kept sealed and dry they can last a great while.
Here's a list of dry goods that are good to store: Rice, pasta, oatmeal, beans, dehydrated mashed potatoes, flavored drink mixes, cup o' soup, flour, sugar, baking powder, baking soda, hot cocoa, coffee, tea, salt, pepper, spices, powdered milk, nuts, dried fruit, dried vegetables, beef jerky, and cereal. Freeze dried food is also available from most sporting goods stores or any store that sells camping/backpacking supplies. Don't forget any pets you might have, keep a supply of dried pet food.
Another excellent option for storage is a commercially available vacuum food sealer, when sealed in this fashion dry goods will last even longer. I use the Food Saver sealer myself, and can't recommend it enough, it can even be used to seal and store ammunition!
Canned Goods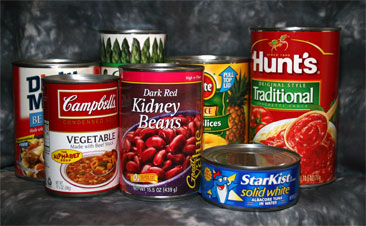 Canned goods such as vegetables, tomato paste/sauce, fruits, soups, canned broth, tuna, salmon, and chicken are excellent for storage. If the can is sealed correctly, not damaged, and stored in a cool, dry place they will last at least one year. Beware of any discolored or leaking cans and rotate your stock periodically. If you have a pet dog or cat it may be wise to stock up on canned pet food also.
Other food stuffs that are invaluable to have around are: Peanut butter, jam/jelly, protein bars , white and apple cider vinegar, condiments such as ketchup, mustard, BBQ sauce, and honey. As an added treat and "pick me up", include a supply of your favorite candy, snack, or chocolate bars.
---
3. Hygiene/ Household needs
Keeping good hygiene is important to maintaining your health. Be sure to stock up on: Soap, shampoo, tooth brushes, tooth paste, floss, hand sanitizer, deodorant, shaving supplies, and feminine products. If there is a baby in the home, be sure to store some baby products as well. Of course your plumbing may not be working so you'll need some place to go when nature calls, this five gallon bucket with toilet lid is just the thing.
Household needs you should keep a supply of are: bleach and detergent for laundry, ammonia, antibacterial surface spray/cleaner, toilet paper, paper towels, dish soap, trash bags, zip-lock bags, plastic wrap, and aluminum foil. Any tools you may need for household repairs, such as screw drivers, screws, hammers, nails, super glue, light bulbs, and....DUCT TAPE!
---
4. Medical/First Aid
Make sure you have a well stocked first aid kit. Include a supply of over the counter medication like: Aspirin, Tylenol, ibuprofin, antacid, cold/flu medication, multi-vitamins, antibiotic ointments, iodine, peroxide, and rubbing alcohol. Also try to keep a supply of any prescription medication you take regularly. Check the "use by" dates and be sure to rotate out any expired medication.
---
5. Alternative Electricity, energy concerns, and surviving without electricity.

It's very likely your home will be without power if disaster strikes. There are a lot of generators on the market.
One limitation of generators is fuel, when you run out, lights out. Some run off of Gasoline or diesel fuel, others use bottled gas.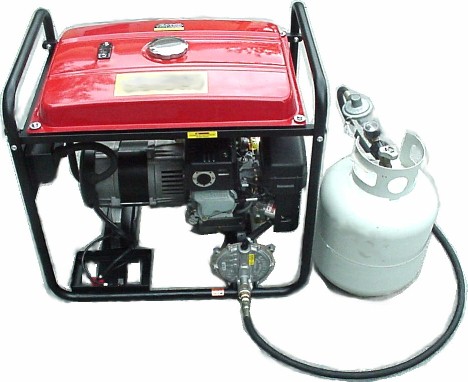 If you're going to go the generator route make sure you operate it outside because of the harmful fumes they emit, you might also need to secure it in a locked enclosure to prevent theft. Also have a supply of fuel, stock-piling gasoline can be expensive ,dangerous, and impractical. If you're going to do this ,store it well away from living areas, outside in a secure area if possible, use only approved containers and get fuel additive like Stabil that will prevent the break down of stored gas. Storing LP(Liquid Propane) tanks, is much easier. They may be the medium sized white tanks that are refillable and usually used for gas grills, or the small camping tanks sold in camping/backpacking stores.
Now, if you don't have a generator here are some options for surviving without electricity.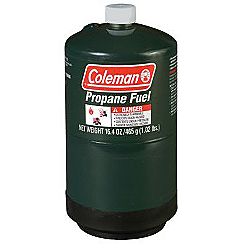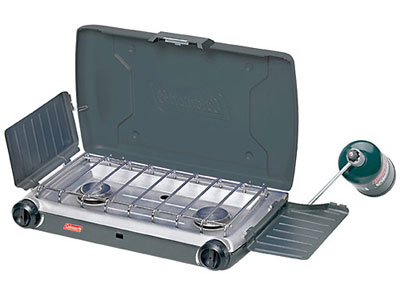 Keeping a small propane or camp fuel powered camp stove is a great idea, the same goes for a lantern, just make sure to operate them in a well ventilated area. In area's that have harsh winters, you could also buy propane powered, portable heaters to help keep warm.
There are plenty of examples of crank-up dynamo/solar powered, lamps, flashlights, and emergency radios available, you should definitely have some of those no matter what. If your have battery powered flashlights,lamps, and radios make sure to stock up on batteries of all kinds. LED lights are the way to go, they are way easier on batteries. Matches, lighters, and candles are also important to have. You could even buy some lamp oil and a few oil lamps for light. A small charcoal grill and some charcoal is great for cooking food or heating water, but you'll have to use it outside.
---
6. Safety/Security/Home-Defense

Now that you have the supplies you need for you and your family to survive, you'll need to keep your family and your home safe if the worst should befall.
Having functional fire alarms and all purpose fire extinguishers in your home is always a smart choice.
Give some thought to cash or items that can be used for trade and barter. Your debit/credit cards may be useless in certain situations and you might not be able to reach a bank.
Disaster situations often bring out the worst in people, even the most well behaved person may act irrationally and/or violently when desperate. While it's a great idea to keep up the morale of all in your home in disaster situations, it's also important to keep those who mean harm out. It's important to keep your stockpile of supplies a secret, kept between you and your family. All entrances and access points into your home should be secured, (dead-bolts on the doors, locks on the windows), battery powered entrance alarms are a good, inexpensive option. Also windows and doors can be reinforced in a pinch if needed. Having a dog can be a good way to deter would be intruders. If you don't already have one, you should seriously consider buying and learning to use a firearm.
A Rifle, shotgun, or handgun would be my choice for home/self defense. And make sure your firearms are secured so they won't fall into the wrong hands or cause an accident, but also keep them where you can access them quickly if you need to. Stocking up on ammo and cleaning supplies for your firearm(s) is a must also. Alternatively you could purchase reloading equipment and supplies and learn to reload your own ammo. Having a good survival knife is a definite plus in any survival situation. A well placed baseball bat or two, pepper spray, or stun gun will also help against violent intruders.
---
7. Escape Planning
So, what happens when your home is no longer safe for you and your family? Unfortunately you'll need to Bug-Out. You should create Bug-Out-Bags or B.O.B.'s for each person in your house before hand.
To find out more about putting together a B.O.B. read my article>>>
https://members.gunnook.com/content....r-%28B.O.B.%29
First of all form a plan of escape, make sure everyone in your home knows it. Pick a location to gather after the escape, maybe even a second location if the first is found unsafe. Sometimes it's a good idea to stash some supplies in these bug-out and fall-back locations, also keep them secret. Two-way radios are a great choice for communication if separated, but remember, anyone with a two-way radio may be able to listen in on your conversations. Don't forget to have a grab and go bag ready with your firearm(s) and ammo too.
Now some people may think all this is being a bit paranoid. Is being prepared for the worst being paranoid? I certainly don't think so. I think it's being responsible. Just take a look at all the natural and man made disasters happening around the country and world right now. Remember the sayings: "It's better to be prepared and not need it, than to need it and not be prepared." and "Be prepared, not scared." After all is said and done, you'll have the peace of mind that comes from being prepared, what do you need to be paranoid about? Stay safe out there.
http://survivalcache.com/
http://www.urbansurvivaltools.com/
http://www.sunsetsurvival.com/home.php
0